Best Taekwondo club in Karachi, Prince Taekwondo Academy is affiliated with Karachi City Taekwondo Association & Sindh Taekwondo Association. Following the original interpretation of the art, Prince Taekwondo Academy seeks to enrich its students through understanding of the mental, physical, and philosophical aspects of WTF Taekwondo Korean martial art. We focus on both the traditional practice of martial arts, and optional competitions for any of our members to take part it, in both poomsae and sparring. Under the supervision of highly qualified male and female instructors, students will be given the opportunity to represent themselves at Provincial and National competitions. If you are looking for the best Tae Kwon Do club in Karachi, then you have come to the right place. We are friendly club, with the exception of very young children, people of any age and physical condition can join and work at their own pace to develop and improve their abilities.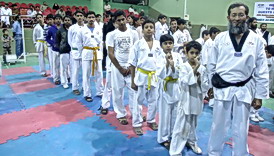 CLUB AIM
To teach the Taekwondo in accordance with the regulations and guidelines as set by the World Taekwondo Federation. To enable each student to participate in a disciplined sporting and recreational activity regardless of age, gender or ethnicity.
Fitness and other benefits of Taekwondo: Taekwondo is a combative contact sport and so the competitors wear body, head and shin protectors, as well as mouth guards, gloves and a groin guard, to protect themselves from injury. Yet this doesn't mean the sport is an undisciplined free-for-all. The participants need to be highly disciplined and prepared to develop both their bodies and their minds. The family sport taekwondo is for everyone & is a great way to gain self-confidence & strength. It can help you to develop discipline and leadership, improve your self-confidence and self-esteem, enhance your flexibility, and develop quick reflexes and agility.