Prince Taekwondo Academy is affiliated with Sindh Taekwondo Association and Karachi City Taekwondo Association. The young talented students of club won a lot of competitions on local and national level and shown the results of intensive training of Sir Suqrat Farooqi & Taha Farooqi Prince Taekwondo Club. The senior Black Belts visits frequently to give tips & techniques to students, which help them to improve their game. Prince Taekwondo Academy won a lot of medals in Taekwondo Championships. YOUR SEARCH FOR BEST TAEKWONDO CLUB ENDS HERE !
Prince Taekwondo Academy, best Taekwondo club in Karachi is promoting the game in Karachi to create champions for healthy competitions and developing a peace community, in collaboration with senior internationally certified taekwondo instructors. Separate Girls Taekwondo Classes. Aerobics Fitness classes to lose weight on alternate days.
ALI FAROOQI IN SAMAA TV COVERAGE...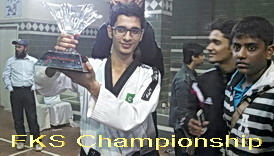 "My 3 Kids professionally trained at Prince Taekwondo Academy by devoted instructors, they are now Black belts, I am thankful to PTA teachers."
M. Saifullah
"I visited Prince Taekwondo Academy and saw professional training by devoted instructors, I appreciate such a healthful activity in community ."
Rehan Hashmi, MNA
1st DG RANGERS TAEKWONDO CHAMPIONSHIP >

Samaa_TV Coverage Prince Tkd Academy
TAE KWON DO is a Korean martial art, which developed independently in Korea and in recent years has become the most respected national sport of Korea, and now has global family of 50 million people all over the world throughout over 160 countries. In the year 2000 it was accepted as an official Olympic sports and today it is the universal art of self-defense and modern world sport. The main goal of Tae Kwon Do is to achieve total mind and body control. The most important fact about Taekwondo as a martial art sport is that it is not only a superior art of self-defense, but it adds remarkable mental discipline and self-confidence, since a taekwondo practitioner is able to attack and beat an aggressor with hands, fists, elbows, knees, feet or any part of his body.


Tile Breaking Prince Taekwondo Academy