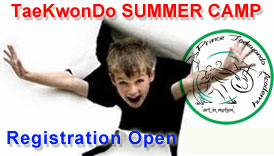 Include Prince Taekwondo Summer Camp in your child's schedule this year! Spectacular, fun-filled Taekwondo & Self-Defense Summer Camp to keep you busy and active during your summer break!
For ages 4 years to onwords.
NO EXPERIENCE NECESSARY.
TaeKwonDo Summer Camp helps children:
◊ Become physically fit, energetic & active
◊ Learn self control & cooperation
◊ Tackle adversity
◊ Learn importance of courtesy & respect
◊ Improve confidence
◊ Set goals & learn how to achieve them
Our dedicated and experienced instructors are skilled in finding the right mix between learning, instruction and fun for children of all ages! We offer full TaeKwonDo & Self Defense training as well as exciting activities in a positive environment for everyone at TaeKwonDo Summer Camp. Our clean, spacious and safe TaeKwonDo facilities & talented TaeKwonDo instructors will work with your children to develop TaeKwonDo skill, confidence, focus & self-esteem..
Fitness and other benefits of Taekwondo: Taekwondo is a combative contact sport and so the competitors wear body, head and shin protectors, as well as mouth guards, gloves and a groin guard, to protect themselves from injury. Yet this doesn't mean the sport is an undisciplined free-for-all. The participants need to be highly disciplined and prepared to develop both their bodies and their minds.

IN SUMMER CAMP 2018 INTRODUCING MARTIAL ARTS GAMES, FITNESS CHALENGES, LEARN & GET STRONG WHILE PLAYING, TRAINING ON INTERNATIONAL STANDARS